Nev­er to be accused of being last minute about any­thing. I was back home in Dublin in August wait­ing on my pass­port which I need­ed to trav­el to Spain the next day. These images are all from Grafton Street. Wan­der­ing around town (Dublin City Cen­tre) or any­where, for that mat­ter, with a cam­era is great fun. Espe­cial­ly with dig­i­tal, though the urge to look at the screen can end with a punch if you are try­ing to sneak a pic of a rough look­ing char­ac­ter, chiefly fat bankers. One of the only things I don't like about street pho­tog­ra­phy is that it has a name.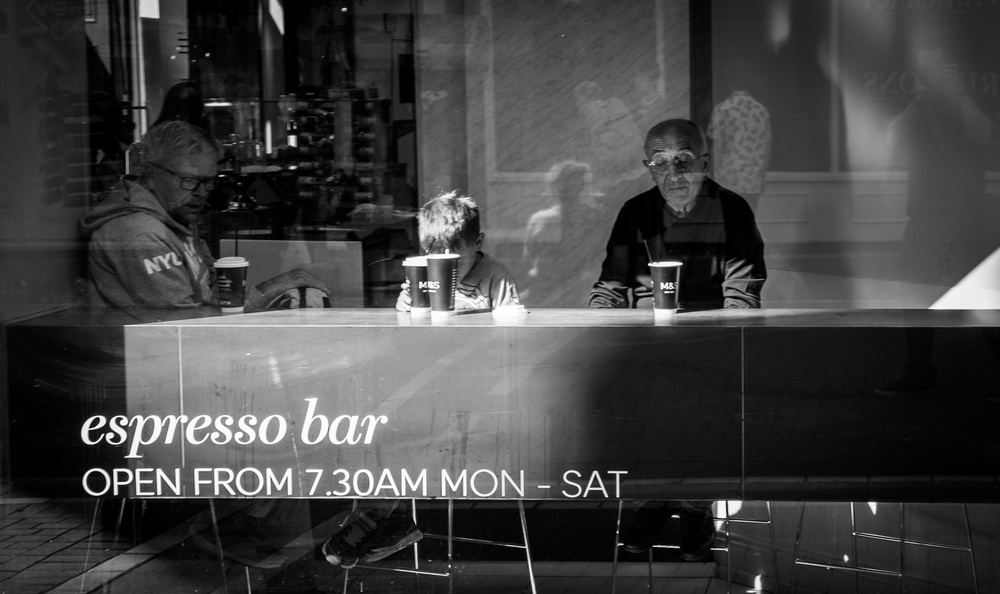 The sight of three gen­er­a­tions of males in the win­dow of a cof­fee shop runs in sharp con­trast to the Dublin of thir­ty years ago where this scene would have tak­en place in the dark cor­ner of the pub. Pints, shorts, peanuts, crisps and lemon­ade. Def­i­nite­ly seemed like a whole load more fun back then. While the three of them were def­i­nite­ly togeth­er, there was no eye con­tact or con­ver­sa­tion between them. What had­n't changed was, they were not going shop­ping.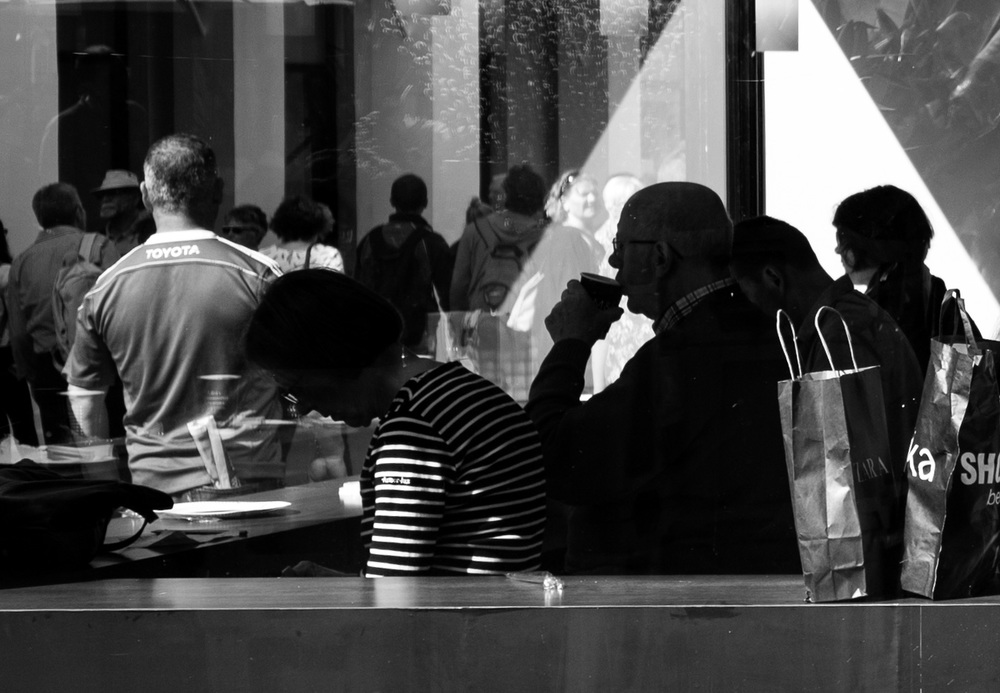 There is a school of thought in pho­tog­ra­phy that an image should not be cropped. Yeah OK, it is nice to see and cap­ture an event in all it's puri­ty, but there are also times when you feel some­thing and click. Lat­er when review­ing the images it isn't there. That famil­iar feel­ing of empti­ness and head scratch­ing as you realise they are all crap and you are unfor­tu­nate­ly insane and imag­ined the whole thing. I like to go back over sequences that are a few months old, when my mem­o­ries of the scene have fad­ed. Quite often that feel­ing pops up again. Imper­fect, poor­ly framed or exposed. Or in my case, often quite small in the frame. I spent most of the 80's and ear­ly 90's walk­ing about with a tele­pho­to lens, which seems to have had a long term effect on my sense of scene.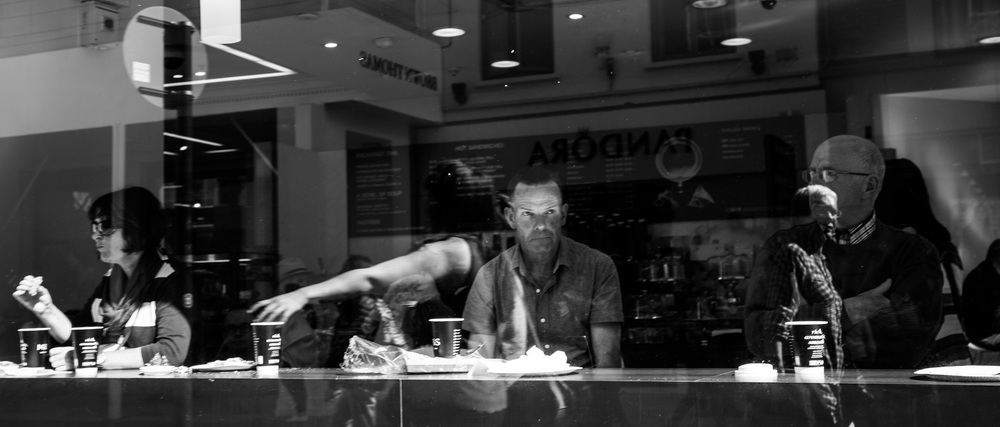 The sec­ond and third images here from M&S cof­fee shop on Grafton street were both feel­ings that there was some­thing there that was inter­est­ing. On review months lat­er the graph­ic com­po­si­tion of the light and the sil­hou­ettes of the peo­ple was so obvi­ous in the first image, but quite small in frame. Lat­ter was tilt­ed and poor­ly exposed. I remem­bered at the time that the guy's face was lit in a very inter­est­ing way but the reflect­ed arm on the cof­fee was luck. Crop­ping, recom­pos­ing and expos­ing the images gave them new life and restored that feel­ing that there was some­thing inter­est­ing when I was walk­ing down the street. Some­thing that I like.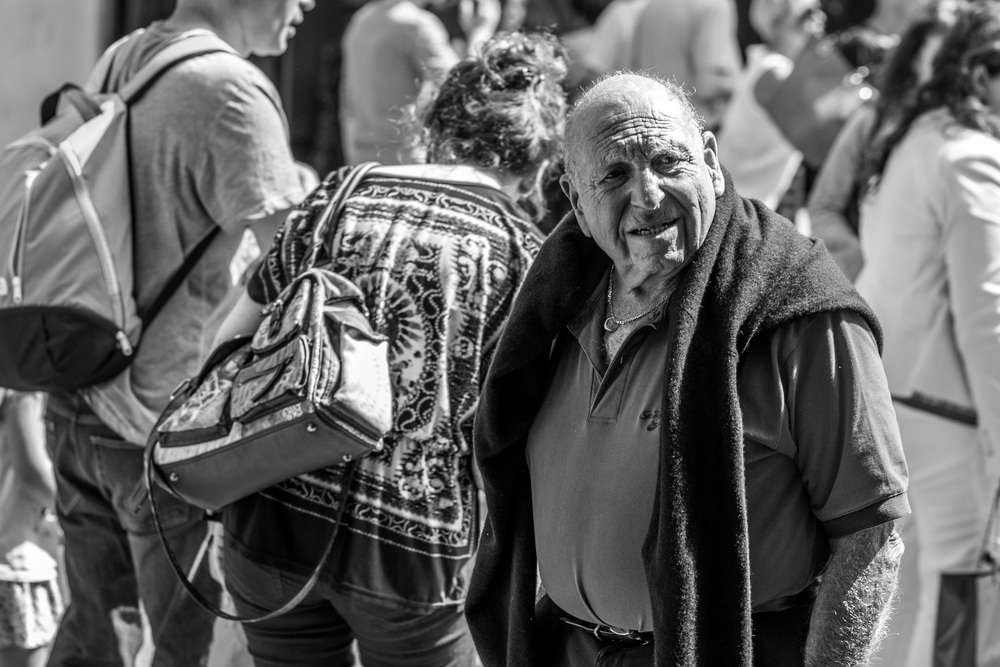 Dublin has real char­ac­ter all the time. It is and feels like a cos­mopo­lis. While it is far removed from the place I grew up, it still has an ener­gy that is unlike any­where else in the world. Also, luck­i­ly for me, mine was the last pass­port hand­ed out on that day and we were in Orense the fol­low­ing evening for a well deserved break.